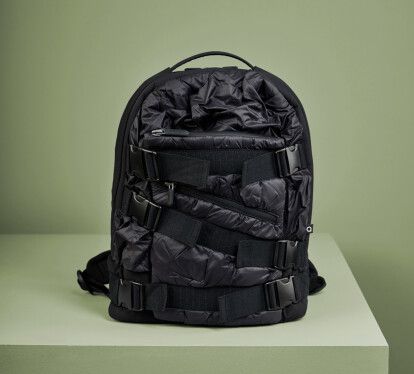 Quant backpack
Everything you need for a stroll is available in the eclectic backpack made of ultralight textile. Fast fixes and the little pocket in the front make it easy to reach all the necessary items. It is a comfortable and off-beat accessory for daily use. The handles of the backpack are adjustable in length making it convenient for everyone. It is easy to take care of the backpack; all you need is a hand wash in 30* water.

Material
Shell: 100% nylon, 100% polyester
Color: white / black / yellow / green / coral / blue
Insulation: 100 holofiber
Weight: 745 g
Where to buy Anex Quant backpack?
Buy original baby strollers in our official representatives' stores. You can find the closest shop here.
Anex m/type strollers in Azerbaijan: Baku, Ganja, Sumqayit, Lankaran, Mingelchaur, Saatli, Qaracuxur, Sirvan, Bakixanov, Nakhchivan, Sheki, Yevlakh, Xankandi, Bilajari, Mastaga, Agdam, Khirdalan, Barda, Xacmaz, Salyan, Hovsan, Jalilabad, Shamkhor, Geoktschai, Agdzhabedy, Imishli, Lokbatan, Shamakhi, Sabirabad, Amirdzhan, Fizuli, Buzovna, Biny Selo, Agdas, Divichibazar, Haciqabul, Quba, Zabrat, Sabuncu, Kyurdarmir, Haci Zeynalabdin, Qazax, Shushi, Neftcala, Zaqatala, Terter, Yelenendorf, Ahmadbayli, Aghsu, Yeni Suraxani, Qusar, Ujar, Beylagan, Mardakan, Astara, Binagadi, Xudat, Ismayilli, Pirallahi, Qobustan, Prishibinskoye, Tovuz, Aghstafa, Qax, Qutqashen, Badamdar, Balakhani, Culfa, Zardob, Saray, Martakert, Zyrya, Yukhary-Dashkesan, Ordubad, Turkan, Masally, Belokany, Aliabad, Bilajer, Ramana, Kyadabek, Corat, Yayci, Kerbakhiar, Jebrail, Cahri, Nardaran, Zangilan, Dzagam, Qobu, Goranboy, Sharur City, Lerik, Severo-Vostotchnyi Bank, Naftalan, Qubadli, Aran, Oguz, Cinarli, Mincivan, Qizilhacili, Samux, Dunyamalilar, Boradigah, Xocali, Ceyranbatan, Avsar, Qarayeri, Khodzhi-Gasan, Novyy Karanlug, Yardimli, Qobustan, Lacin, Khyzy, Kyzyl-Burun.
Stores