Anex e/type
Style and convenience are meant to be together. The Anex e/type offers you a balanced combination of elegance and practicality. The gentle leatherette in luxurious shades will have you standing out on the street, whilst gaining the pleasure of having every feature you could want or need for a stroller.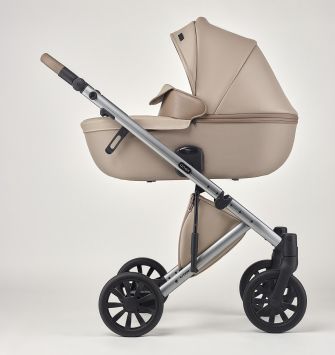 Features
Features of e/type strollers are based on usability for parents as well as comfort, and safety for kids. Therefore, the stroller allows one to get real pleasure from versatile and all-terrain walks.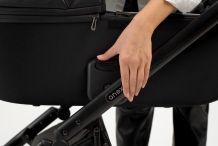 Easy removing cot. Press the buttons to remove the carrycot. The adapters' memory system will keep the buttons pressed until you pull up the cot.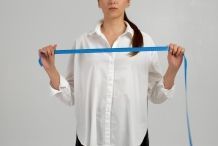 Comfortable sleeping space. Newborns will sleep tight in the area of 79×35×17 cm.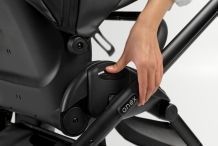 Memory buttons. The buttons memory system ensures convenience in case of a need to correct the position of the carrycot's hood with one hand.
Position for newborns. The seat unit can be used from birth due to the ability to lower the backrest.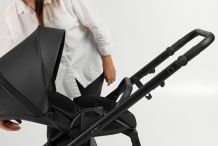 Backrest & footrest adjustments. You can choose an individual comfortable height and lying positions.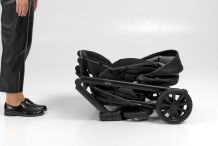 Folding frame. The frame can be folded together with the seat unit so you don't need to worry about portability or additional space.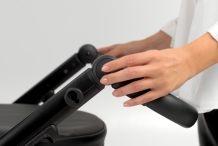 Multi handle. Due to the ergonomic design, there are 9 handle positions suitable for people of different heights.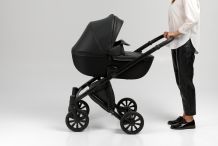 Triple shock absorption. The shock absorbers work simultaneously on the front wheels, rear wheels and on the frame providing a smooth ride and maximum maneuverability.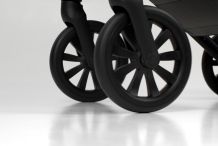 360-degree turning front wheels. They make rides more comfortable allowing the stroller to overcome obstacles on the road.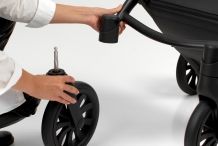 Click-to-go. The one click wheel connection ensures quick installation or detachment of the wheels.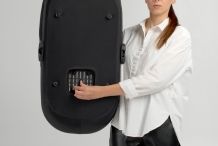 Breathing system. The stroller is equipped with a complex air circulation system that provides ventilation in the bottom, in the mattress and in the hood of the cot, in the footrest and hood of the seat unit.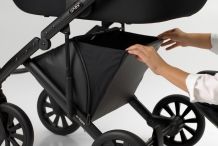 Basket+. The functionality of the basket provides options of increasing its capacity: 5kg max load. Basket+ can be used in a completely open mode.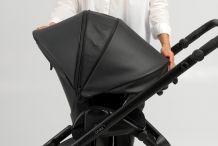 Large hood. The hood completely covers the child and therefore protects your kid from the rain, wind or other surprises.
Awards & certificates
Our strollers are tested and certified according to European standards. We have won several awards because we work hard to ensure that our strollers comply with all the safety, stability, and durability requirements. e/type complies with the new standard EN1888:2018 and is designed for children weighing up to 22 kg (up to 4 years).
EN 1888-1:2018 / EN 1888-2:2018
compact stroller
child strollers
baby pram stroller
strollers for newborns
coches de pasecarros para bebes
carricoches de bebe
cochecitos de bebe altos
carros de bebé