Oberih bag
15% of every bag sold goes towards the Children Heroes charity fund, helping to provide support and resources for children who have lost their parents in war.
Bring a piece of Ukraine with you wherever you go. This exquisite bag is a blend of traditional Ukrainian embroidery and modern design, making it a unique and fashionable accessory.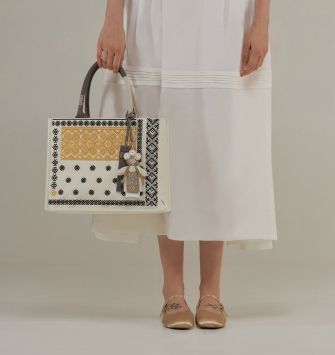 Description:
The embroidered designs are inspired by ancient patterns and ornaments found in Ukraine, and each element holds a specific meaning: the rhombus symbolizes fertility, the circle represents the sun's divine and life-giving energy, the use of wavy lines and zigzags is associated with water and the evolution. The ornament was created as a harmony of elements from different regions of Ukraine. It is based on black color, geometric shapes and satin stitch style, inspired by the first authentic embroideries.
The Oberih bag also comes with a knotted doll keychain, a traditional Ukrainian doll that is elegantly dressed and decorated by hand. The knotted doll is a talisman and symbol of femininity and wisdom in Ukrainian families for centuries. It is a work of a Ukrainian craftswoman who created it despite the war in Ukraine.
The Oberih bag features a molded handle that provides a comfortable grip while carrying it.
The bag also has a small pocket inside for storing essentials such as your phone or wallet.
The matte threads add a touch of sophistication to the design.
Embroidery based on ancient patterns and ornaments from XI-XII centuries and made with authentic black and gold colors.
Knotted doll handmade with natural fabrics: linen and cotton.
Symbolizes protection, positive energy, family, and continuation of life.
Bag sizes LxHxW: 36x29x14 cm
Handles length: 45 cm
Fabric: polyester
Dust bag included
Doll sizes LxW: 14x9 cm
Doll materials: linen and cotton
This product is covered by a 3-month warranty.