Forget about classic plastic cots, Anex m/type PRO turns the world of strollers upside down. This model is created with smart fashion in mind, acknowledging the importance of high-quality materials and environmentally friendly production. The model is improved by innovative EPP material (Expanded Polypropylene) that makes it lighter without compromising on strength or safety.
Features
The key features of the m/type PRO collection are based on kids' comfort and parents' convenience. The stroller allows you to get sheer pleasure from the great outdoors.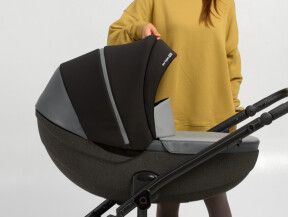 Easy removing cot. Press the buttons to remove the carrycot. The adapters' memory system will keep the buttons pressed until you pull up the cot.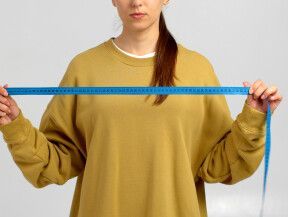 Comfortable sleeping space. Newborns will sleep tight in an area of 79 х 33 х 15 cm.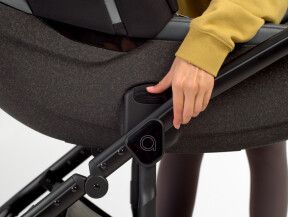 Memory buttons. The buttons memory system ensures convenience in case of a need to correct the position of the carrycot's hood with one hand.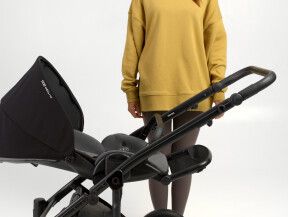 Position for newborns. The seat unit can be used from birth due to the ability to lower the backrest.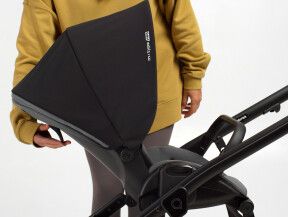 Backrest & footrest adjustments. You can choose an individual comfortable height and lying position.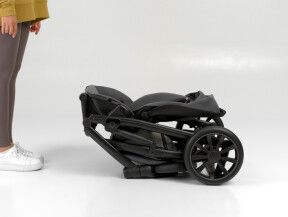 Folding frame. The frame can be folded together with the seat unit so you don't need to worry about portability or additional space.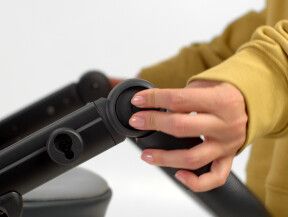 Multi handle. Due to the ergonomic design, there are 9 handle positions suitable for people of different heights.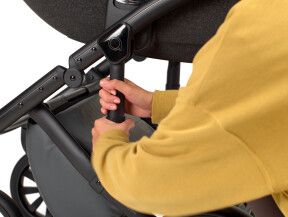 Triple shock absorption. The shock absorbers work simultaneously on the front wheels, rear wheels and on the frame. The system can be adjusted according to the type of road surface.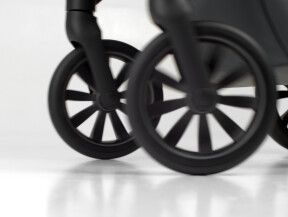 360-degree turning front wheels. They make rides more comfortable allowing the stroller to overcome obstacles on the road.
Click-to-go. The one-click wheel connection ensures quick installation or detachment of the wheels.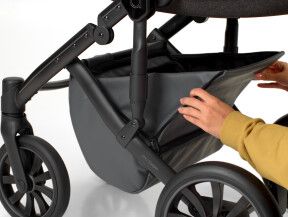 Transformer basket. The functionality of the basket provides various options for its use: open, semi-open, enlarged, and completely closed.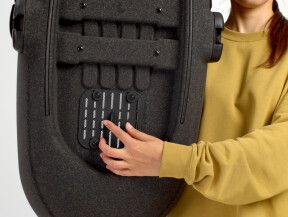 Breathing system. More ventilation options in one stroller: a window at the bottom of the carrycot, net areas in the hoods of the cot and the seat unit, a ventilated footrest and a breathable mattress.
What included
Frame

Carrycot with mattress

Seat unit

Air free wheels

Rain cover

Mosquito net

Footcover for seat unit

Footcover for carrycot

Frame basket

Backpack
Tech Specs
Each Anex model is equipped with a number of important technical specifications that turn the stroller into an all-terrain travel system, doubling ultra-comfort.
Anti-wobble

An anti-wobble system prevents wheel vibration during motion and ensures a straight and smooth ride.

X-Lock

The stroller features an automatic protection system against accidental frame folding.

Fabric protection

The innovative water-repellent finishing prevents drops of water from penetrating into the fabric and UV 50+ technology blocks 98% of the sun's rays.

Breathing system

The stroller is equipped with a complex air circulation system that provides ventilation in the bottom, in the mattress and in the hood of the cot, in the footrest and hood of the seat unit.

Comfy stop

The ergonomic shoe-friendly brake system is activated and deactivated simply by pressing a pedal.

Air-free wheel system

Wear-resistant and elastic wheels. These wheels consist of solid polyurethane.

Removable bumper

The system makes it easy to attach/detach the bumper with one hand.
Weight, external and internal dimensions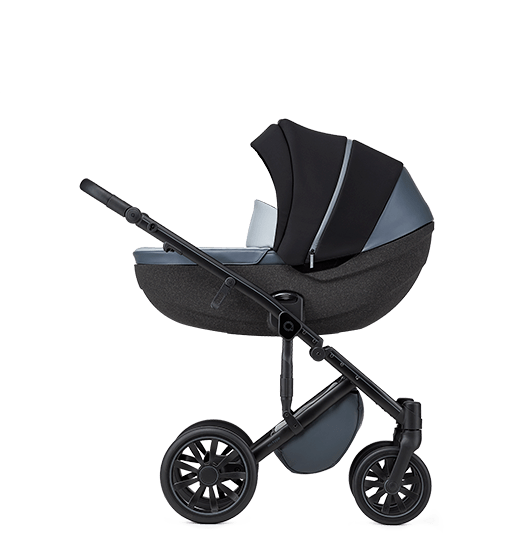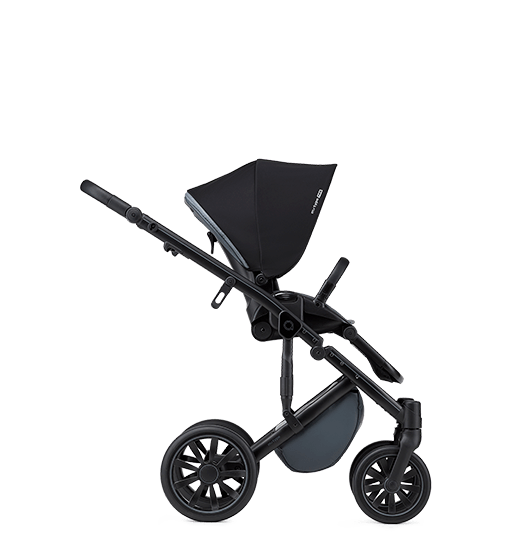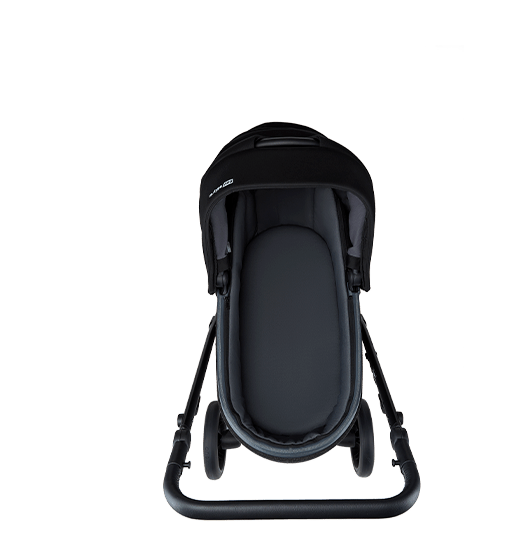 Inner carrycot dimensions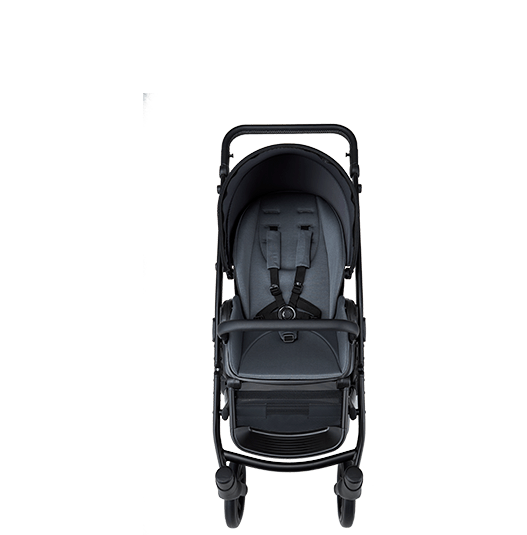 Inner seat unit dimensions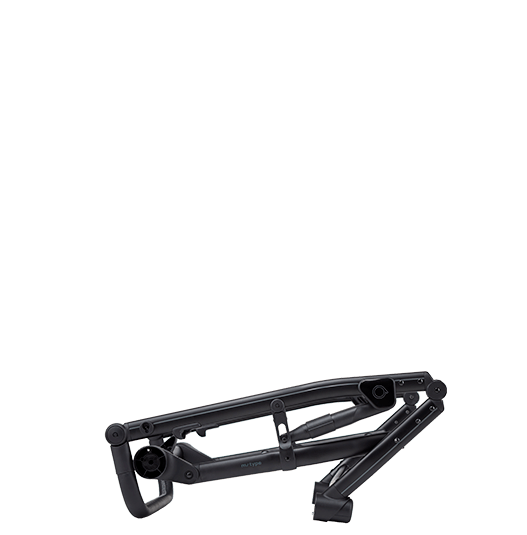 Awards & certificates
Our strollers are tested and certified according to the European standards. They meet the requirements of security, stability and durability, that is proved by numerous international awards. m/type PRO complies with the new standard EN1888:2018 and is designed for children weighing up to 22 kg (up to 4 years).
Stay tuned with Anex
We promise to send useful information only a few times a month.
Where can I buy the Anex m/type PRO?
Buy original Anex strollers from our official representatives. You can find the closest store on the map.
Strollers Anex m/type in Slovenia: Ljubljana, Maribor, Celje, Kranj, Velenje, Koper, Novo Mesto, Ptuj, Trbovlje, Kamnik, Jesenice, Nova Gorica, Domzale, Skofja Loka, Murska Sobota, Izola, Postojna, Logatec, Kocevje, Vrhnika, Slovenj Gradec, Slovenska Bistrica, Grosuplje, Krsko, Ravne na Koroskem, Ajdovscina, Brezice, Litija, Zagorje ob Savi, Menges, Idrija, Radovljica, Lucija, Crnomelj, Hrastnik, Sezana, Bled, Medvode, Rogaska Slatina, Zalec, Slovenske Konjice, Sentjur, Sevnica, Prevalje, Ilirska Bistrica, Ruse, Piran, Cerknica, Trzic, Miklavz na Dravskem Polju, Trzin, Sempeter pri Gorici, Ribnica, Ziri, Tolmin, Trebnje, Ljutomer, Lasko, Dravograd, Ankaran, Metlika, Mezica, Gornja Radgona, Sencur, Lendava, Zelezniki, Lenart v Slov. Goricah, Zrece, Sostanj, Brezovica pri Ljubljani, Radlje ob Dravi, Spodnje Hoce, Race, Crna na Koroskem, Beltinci, Polzela, Muta, Vojnik, Ig, Skofljica, Radenci, Ormoz, Radece, Borovnica, Pivka, Mozirje, Semic, Straza, Ivancna Gorica, Lovrenc na Pohorju, Mislinja, Store, Sentilj v Slov. Goricah, Bohinjska Bistrica, Smarje pri Jelsah, Vipava, Naklo, Prebold, Odranci, Log pri Brezovici, Bovec, Cerklje na Gorenjskem, Cerkno, Vodice, Vuzenica, Rogatec, Turnisce, Miren, Smartno pri Litiji, Kranjska Gora, Spodnji Duplek, Sentjernej, Mirna, Divaca, Oplotnica, Horjul, Selnica ob Dravi, Kanal, Dornava, Kidricevo, Gorenja Vas, Crensovci, Poljcane, Sredisce ob Dravi, Kobarid, Ljubno ob Savinji, Zuzemberk, Gornji Grad, Mirna Pec, Dobrovnik, Benedikt, Dobrova, Velika Polana, Pesnica pri Mariboru, Moravce, Verzej, Komenda, Nazarje, Vitanje, Preddvor, Sodrazica, Starse, Dolenjske Toplice, Gorisnica, Vransko, Volcja Draga, Moravske Toplice, Sv. Trojica v Slov. Goricah, Velike Lasce, Kostanjevica na Krki, Grad, Kozje, Komen, Smartno ob Paki, Puconci, Majsperk, Mokronog, Kobilje, Zirovnica, Videm, Zgornje Jezersko, Dobrna, Kozina, Leskova Dolina, Zgornja Kungota, Apace, Podcetrtek, Zgornje Gorje, Krizevci pri Ljutomeru, Recica ob Savinji, Videm pri Ptuju, Markovci, Cankova, Ribnica na Pohorju, Cirkulane, Salovci, Gornji Petrovci, Lukovica pri Domzalah, Luce, Tabor, Tisina, Zetale, Podlehnik, Jurovski Dol, Braslovce, Kuzma, Hrib-Loski Potok, Dobrovo, Trnovska Vas, Podvelka, Sentrupert, Vitomarci, Smarjeta, Jursinci, Nova Vas, Sveti Tomaz, Bistrica ob Sotli, Spodnja Hajdina, Rogasovci, Razkrizje, Makole, Skocjan, Dol pri Ljubljani, Hodos, Solcava, Sveti Jurij ob Scavnici, Destrnik, Sv. Ana v Slov. Goricah, Cerkvenjak, Dobje pri Planini, Osilnica, Zavrc, Kostel.
strollers for children, stroller for the child, strollers for toddlers, stroller for baby, stroller for baby and toddler, stroller for baby girl, stroller for baby boy, stroller for bitty baby, pram for baby boy, pram for baby born, stroller for baby cost, stroller for newborn, comfortable stroller for baby, carriage stroller for baby, buy a baby stroller
Stores
Accessories
We design all accessories with two rules in mind: their design should convey the spirit of Anex and they should be beneficial to both children and adults.
All accessories
See also
We design all accessories according to two rules: their design should convey the spirit of Anex and be beneficial both children and adults.