Anex Quant
We want the next generation to be free from stereotypes. The parents should feel free to express themselves.
That's why we created the Quant, stroller for open-minded parents who want to have more freedom, stand out and move beyond.
We challenge the established norms and this is our decision.
Awards & certificates
Our strollers were tested and certified according to European standards. We have won some awards because we work hard and make our strollers with all the safety, stability, and durability requirements.
Weight, external and internal dimensions
Stroller with carrycot

Length : 111,4 cm
Width : 60 cm
Height : 123 cm
Weight : 14,9 kg

Stroller with seat unit

Length : 111,4 cm
Width : 60 cm
Height : 123 cm
Weight : 14,4 kg

Inner carrycot dimensions

Length : 74 cm
Width : 35 cm
Height : 18 cm
Weight : 4,8 kg

Inner seat unit dimensions

Seat length : 90 cm
Seat width : 34 cm
Backrest width : 33 cm
Weight : 4,3 kg

Frame

Length : 65,4 cm
Width : 50,5 cm
Height : 23,5 cm
Weight : 6,4 kg
We believe that small acts can bring global benefits. We use recycled plastic fabrics.

Since only 9% of plastic elements in the world gets recycled, the problem of the pollution of oceans and lands is as crucial as ever.
We decided that using such material makes a perfect opportunity for us to contribute and for others to join the initiative.

The textile gained all necessary certification, it's completely safe for children
Tech specs
We provide each stroller with a range of safety systems, and use materials that are compliant with all standards so that each baby feels comfortable and parents don't worry.
Car seat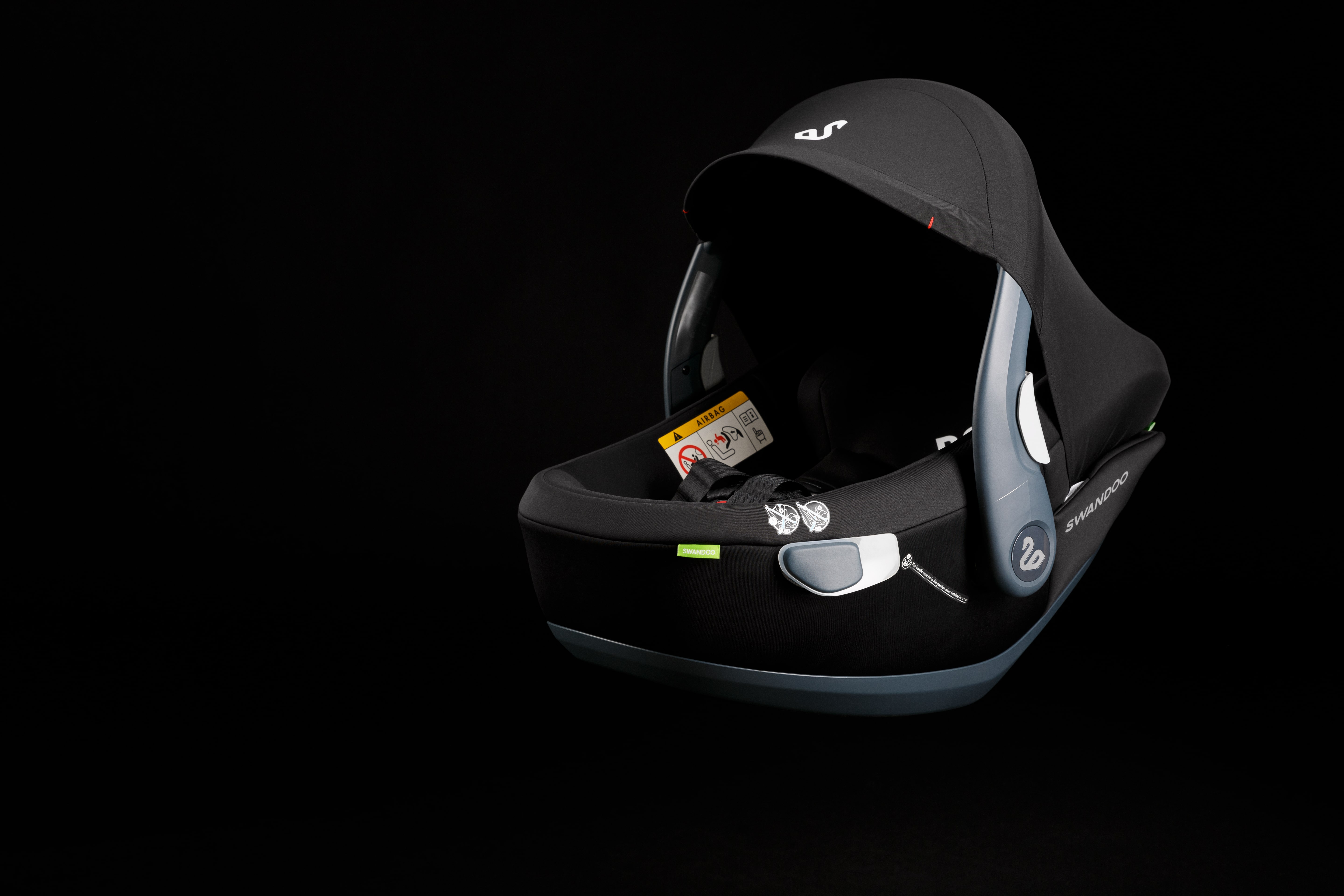 Quant car seat by Swandoo provides superior safety, comfort and peace of mind. It's a stylish solution for modern families.
Features
Functional design is not just a trend. This is what a modern person needs. And we created the Quant.
LED light. Lighting at the front side of the frame makes the stroll easier. Choose the option: flickering or full brightness mode.
All functions with one hand. You can fold or unfold the frame with one hand.

All functions with one hand. You can fold or unfold, install or remove the carrycot and also operate all these with one hand.
All functions with one hand. You can install or remove the seat unit, adapters and safety bumper with one hand.
Compact size. What is a very compact size that makes it easy to store and move? Just imagine: 65,5 cm x 50,5 cm x 23,5 cm (without wheels).
Plastic carrycot and polystyrene bottom. The polystyrene bottom creates a necessary temperature barrier and a special plastic carrycot protect your baby from accidental punches.
Dual-core mattress. The mattress creates an orthopedic effect and the necessary rigidity in the carrycot's bedding.
Winter x Summer walk. The seat unit is not a summer option only, did you know? Open the ventilation during summer time and put the cover for cold weather walks.
Shock-absorbing system for front and rear wheels. The stroller's shock-absorbing system includes the amortization of the front and rear wheels for smooth stroll.
Light-reflecting tags. The words on the canopy hoods are made from a special light-reflecting material.
Position for 0+ babies. The seat unit back side can lean to the recommended lying position, which makes it possible to use for newborn babies.
One hand folding system. The primary purpose of designing this stroller is to provide the opportunity to fold/unfold the frame with one hand including the seat unit.