Forget about classic plastic cots, Anex m/type PRO turns the world of strollers upside down. This model is created with smart fashion in mind, acknowledging the importance of high-quality materials and environmentally friendly production. The model is improved by innovative EPP material (Expanded Polypropylene) that makes it lighter without compromising on strength or safety.
Features
The key features of the m/type PRO collection are based on kids' comfort and parents' convenience. The stroller allows you to get sheer pleasure from the great outdoors.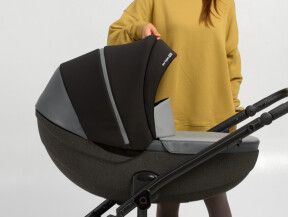 Easy removing cot. Press the buttons to remove the carrycot. The adapters' memory system will keep the buttons pressed until you pull up the cot.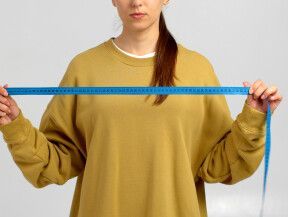 Comfortable sleeping space. Newborns will sleep tight in an area of 79 х 33 х 15 cm.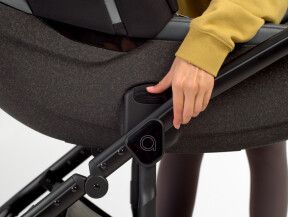 Memory buttons. The buttons memory system ensures convenience in case of a need to correct the position of the carrycot's hood with one hand.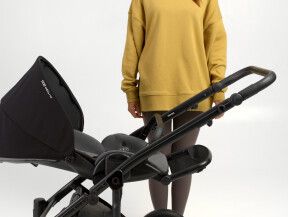 Position for newborns. The seat unit can be used from birth due to the ability to lower the backrest.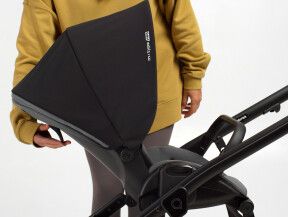 Backrest & footrest adjustments. You can choose an individual comfortable height and lying position.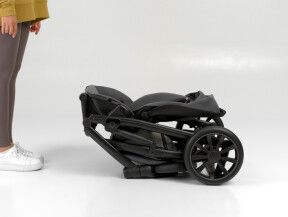 Folding frame. The frame can be folded together with the seat unit so you don't need to worry about portability or additional space.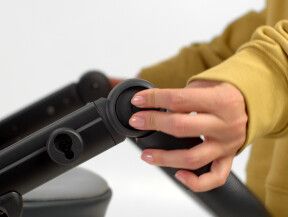 Multi handle. Due to the ergonomic design, there are 9 handle positions suitable for people of different heights.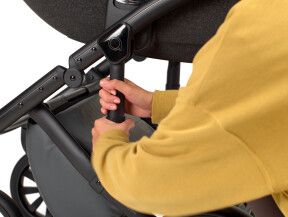 Triple shock absorption. The shock absorbers work simultaneously on the front wheels, rear wheels and on the frame. The system can be adjusted according to the type of road surface.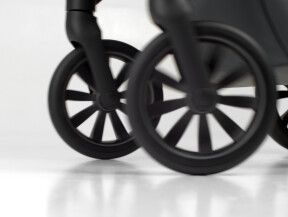 360-degree turning front wheels. They make rides more comfortable allowing the stroller to overcome obstacles on the road.
Click-to-go. The one-click wheel connection ensures quick installation or detachment of the wheels.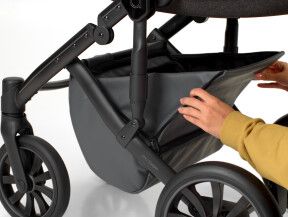 Transformer basket. The functionality of the basket provides various options for its use: open, semi-open, enlarged, and completely closed.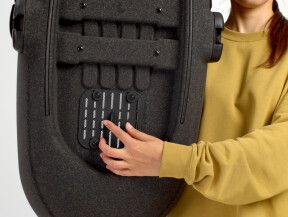 Breathing system. More ventilation options in one stroller: a window at the bottom of the carrycot, net areas in the hoods of the cot and the seat unit, a ventilated footrest and a breathable mattress.
What included
Frame

Carrycot with mattress

Seat unit

Air free wheels

Rain cover

Mosquito net

Footcover for seat unit

Footcover for carrycot

Frame basket

Backpack
Tech Specs
Each Anex model is equipped with a number of important technical specifications that turn the stroller into an all-terrain travel system, doubling ultra-comfort.
Anti-wobble

An anti-wobble system prevents wheel vibration during motion and ensures a straight and smooth ride.

X-Lock

The stroller features an automatic protection system against accidental frame folding.

Fabric protection

The innovative water-repellent finishing prevents drops of water from penetrating into the fabric and UV 50+ technology blocks 98% of the sun's rays.

Breathing system

The stroller is equipped with a complex air circulation system that provides ventilation in the bottom, in the mattress and in the hood of the cot, in the footrest and hood of the seat unit.

Comfy stop

The ergonomic shoe-friendly brake system is activated and deactivated simply by pressing a pedal.

Air-free wheel system

Wear-resistant and elastic wheels. These wheels consist of solid polyurethane.

Removable bumper

The system makes it easy to attach/detach the bumper with one hand.
Weight, external and internal dimensions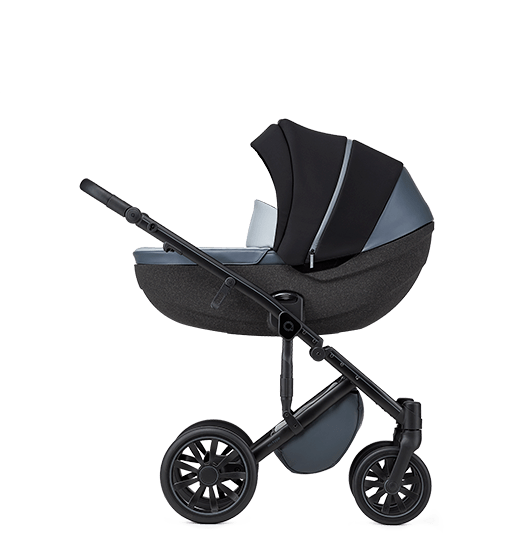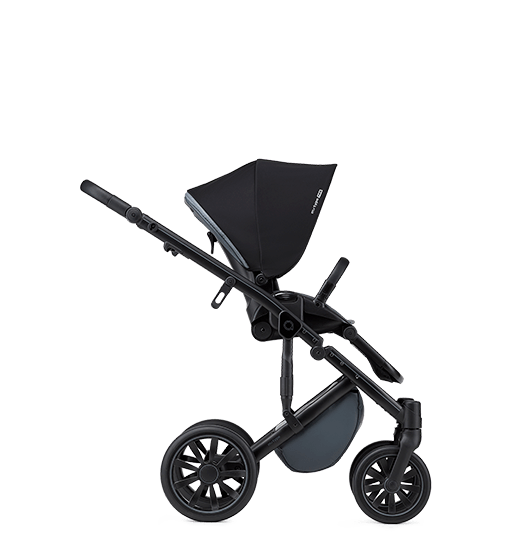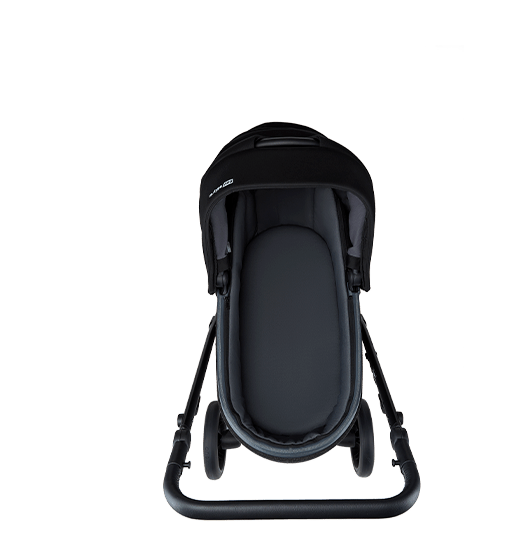 Inner carrycot dimensions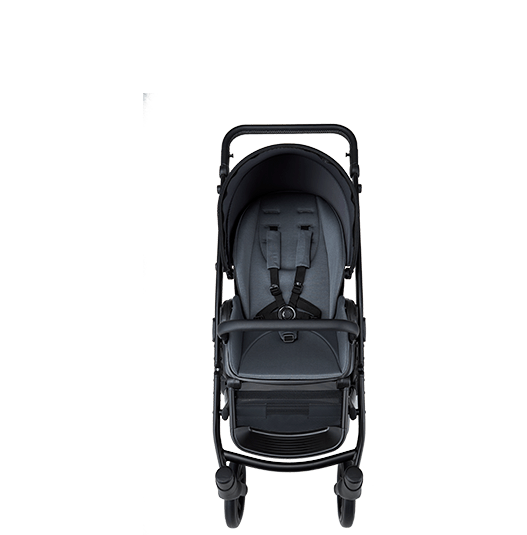 Inner seat unit dimensions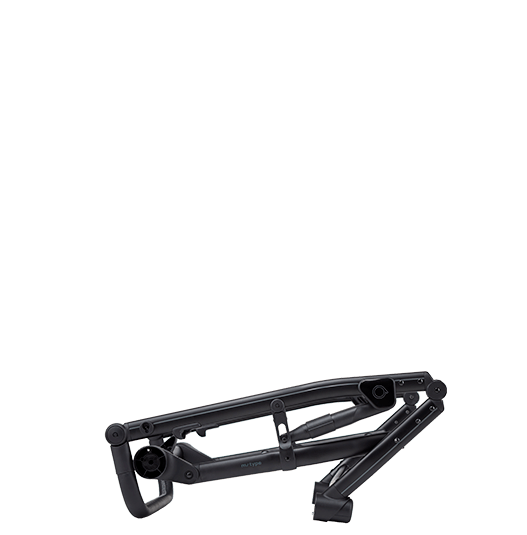 Awards & certificates
Our strollers are tested and certified according to the European standards. They meet the requirements of security, stability and durability, that is proved by numerous international awards. m/type PRO complies with the new standard EN1888:2018 and is designed for children weighing up to 22 kg (up to 4 years).
Stay tuned with Anex
We promise to send useful information only a few times a month.
Our strollers are tested and certified according to the European standards. They meet the requirements of security, stability and durability, that is proved by numerous international awards. m/type PRO complies with the new standard EN1888:2018 and is designed for children weighing up to 22 kg (up to 4 years).
Buy original Anex strollers from our official representatives. You can find the closest store on the map.
Strollers Anex m/type in the Czech Republic: Prague, Brno, Ostrava, Pilsen, Olomouc, Liberec, Ceske Budejovice, Hradec Kralove, Usti nad Labem, Pardubice, Havirov, Zlin, Kladno, Most, Karvina, Opava, Frydek-Mistek, Decin, Karlovy Vary, Teplice, Chomutov, Jihlava, Prostejov, Prerov, Jablonec nad Nisou, Mlada Boleslav, Ceska Lipa, Trebic, Trinec, Tabor, Znojmo, Pribram, Orlova, Cheb, Modrany, Liben, Trutnov, Pisek, Kolin, Kromeriz, Sumperk, Vsetin, Valasske Mezirici, Litvinov, Novy Jicin, Uherske Hradiste, Hodonin, Breclav, Cesky Tesin, Krnov, Sokolov, Litomerice, Havlickuv Brod, Zgar nad Sazavou, Zgar nad Sazavou Druhy, Chrudim, Strakonice, Koprivnice, Klatovy, Bohumin, Stary Bohumin, Jindrichuv Hradec, Vyskov, Cerny Most, Kutna Hora, Nachod, Jirkov, Blansko, Zatec, Hranice, Melnik, Louny, Otrokovice, Kadan, Branik, Bruntal, Beroun, Uhersky Brod, Svitavy, Kralupy nad Vltavou, Roznov pod Radhostem, Ostrov, Ceska Trebova, Pelhrimov, Rakovnik, Neratovice, Jicin, Benesov, Dvur Kralove nad Labem, Varnsdorf, Letnany, Bilina, Bilina Kyselka, Prosek, Brandys nad Labem-Stara Boleslav, Usti nad Orlici, Slany, Klasterec nad Ohri, Turnov, Chodov, Nymburk, Zabreh, Horni Pocernice, Marianske Lazne, Hlucin, Cesky Krumlov, Strizkov, Sternberk, Rokycany, Krupka, Podebrady, Roudnice nad Labem, Vrchlabi, As, Jaromer, Tachov, Jesenik, Unicov, Holesov, Vysoke Myto, Vlasim, Kyjov, Novy Bor, Veseli nad Moravou, Karlin, Prachatice, Velke Mezirici, Rychnov nad Kneznou, Vysocany, Susice, Moravska Trebova, Frenstat pod Radhostem, Ricany, Boskovice, Rumburk, Domazlice, Humpolec, Nove Mesto na Morave, Hlinsko, Studenka, Litomysl, Stare Mesto, Nove Mesto nad Metuji, Celakovice, Litovel, Caslav, Chotebor, Lanskroun, Frydlant nad Ostravici, Mohelnice, Ivancice, Milevsko, Kurim, Nova Paka, Lovosice, Steti, Policka, Rymarov, Semily, Chocen, Bystrice nad Pernstejnem, Duchcov, Horice, Trebon, Pribor, Bystrice pod Hostynem, Prelouc, Nejdek, Cerveny Kostelec, Lipnik nad Becvou, Mnichovo Hradiste, Tyn nad Vltavou, Broumov, Tisnov, Lysa nad Labem, Vimperk, Moravske Budejovice, Dacice, Dobris, Sedlcany, Stribro, Napajedla, Mikulov, Dubi, Hulin, Bilovec, Frydlant, Sezimovo Usti, Odry, Hradek nad Nisou, Sobeslav, Kaplice, Novy Bydzov, Kraslice, Slapanice, Dobruska, Slavicin, Svetla nad Sazavou, Nyrany, Tanvald, Petrvald, Benatky nad Jizerou, Letovice, Kravare, Rychvald, Stare Mesto, Blatna, Mimon, Vodnany, Dubnany, Cesky Brod, Veseli nad Luznici, Hronov, Zelezny Brod, Horovice, Kojetin, Bucovice, Vratimov, Prestice, Mala Strana, Tyniste nad Orlici, Holice, Podborany, Vitkov, Letohrad, Kostelec nad Orlici, Fulnek, Zamberk, Vrbno pod Pradedem, Chrastava, Moravsky Krumlov, Ledec nad Sazavou, Trest, Upice, Lomnice nad Popelkou, Roztoky, Slavkov u Brna, Hustopece, Straznice, Telc, Horni Slavkov, Kraluv Dvur, Jablunkov, Dobrany, Jilemnice, Bechyne, Horazgovice, Sluknov, Trebechovice pod Orebem, Luhacovice, Stochov, Ceska Kamenice, Senov, Milovice, Kbely, Plana, Skutec, Zubri, Ceska Skalice, Frantiskovy Lazne, Habartov, Jilove, Chlumec nad Cidlinou, Rosice, Hradec nad Moravici, Valasske Klobouky, Namest nad Oslavou, Chropyne, Tynec nad Sazavou, Kunovice, Pacov, Kynsperk nad Ohri, Nove Straseci, Bystrice, Nyrsko, Doksy, Protivin, Rousinov, Polna.
Stores
Accessories
We design all accessories with two rules in mind: their design should convey the spirit of Anex and they should be beneficial to both children and adults.
All accessories
See also
We design all accessories according to two rules: their design should convey the spirit of Anex and be beneficial both children and adults.